Five
The heavy gray clouds are piling up in the south, something that probably moved in from the Gulf and has now made its way to us. Rain later on seems a sure bet. Hopefully it won't pull in higher temperatures along with it.
I would like to continue from the last chapter. Women I draw on when I write my own female characters…
(A non-fiction piece from my days of driving taxi)
The Last Ride is Copyright © 2013 – 2015 Wendell Sweet All rights reserved
THE LAST RIDE
It was early in my shift. I owned my own taxi so I could pretty much pick which 12 hour shifts I wanted to drive. I drove nights so that I could be home with my son during the day while my wife worked. I had told myself for most of the last year that I should stop driving taxi, settle down to a real job and be more responsible. And then a Conrail contract came along and then the opportunity to work with another driver who handled the airport contract, and suddenly I was making more money than I could have reasonably expected from what I would have considered a straight job.
The hours were long, but there was something that attracted me to the night work: Always had been. Like my internal clock was Set to P.M.. It just seemed to work and after a few failed attempts at day shift work, I gave it up and went to work fulltime nights.
I was never bored. The nights kept me awake and interested. They supplied their own entertainment. Conrail crews, regulars that called only for me, the assorted funny drunks late at night when the bars were closing. Soldiers on their way back to the nearby base, and a dancer at a small club just off downtown that had been calling for me personally for the last few weeks: Using my cab as a dressing room on the way back to her hotel. It was always something different.
Days, the few times I'd driven days, couldn't compare. Sure, there was violence at night too, but it rarely came my way and never turned into a big deal when it did.
It was Friday night, one of my big money nights, about 7:00 P.M. and my favorite dispatcher, Smitty, had just come on. He sent me on a call out State street that would terminate downtown. Once I was downtown, I could easily pick up a GI heading back to the base for a nice fat fare and usually a pretty good tip. My mind was on that. My mind was also on that dancer who would be calling sometime after two AM, and who had made it clear that I was more than welcome to come up to her room. It was tempting, I'll admit it, and each time she called she tempted me more. I figured it was just a matter of time before I went with her.
I really didn't see the lady when she got into my car, but when it took her three times to get out the name of the bar downtown that she wanted to go to, I paid attention. Drunk. It was early too. Sometimes drunks were okay, but most times they weren't. This one kept slumping over, slurring her words, nearly dropping her cigarette. I owed the bank a pile of money on the car and didn't need burn holes in my back seat.
I dropped the flag on the meter, pulled away from the curbing and eased into traffic. Traffic was heavy at that time and I pissed off more than a few other drivers as I forced my way into the traffic flow. I had just settled into the traffic flow when a glance into the rear view mirror told me my passenger had fallen over. I couldn't see the cigarette, but I could still smell it. I made the same drivers even angrier as I swept out of the traffic flow and angled up onto the sidewalk at the edge of the street. I got as far out of the traffic flow as I could get so I could get out to see what was up with the woman in the back seat.
I was thinking drunk, at the time, but the thought that it could be something more serious crept into my head as I made the curb, bumped over it, set my four way flashers and climbed out and went around to the back door.
She was slumped over into the wheel well, the cigarette smoldering next to her pooled, black hair: In her hair, I realized as the smell of burning hair came to me. I snatched the cigarette and threw it out then shook her shoulder to try to bring her around. But it was obvious to me, just that fast, that the whole situation had changed. She wasn't breathing.
I reached in, caught her under the arms, and then suddenly someone else was there with me.
He was a short, thin man wearing a worried look up on his face. Dark eyes sat deeply in their sockets. His hair hung limply across his forehead. He squeezed past me and looked down at the woman. He pushed her eyelids up quickly, one by one, and then held his fingers to her lips. He frowned deeply and flipped the hair away from his forehead.
"Paramedic," he told me as he took her other arm and helped me pull her from the back seat.
We laid her out on the sloping front lawn of the insurance company I had stopped in front of and he put his head to her chest.
He lifted his head, shaking it as he did. "Call an ambulance," he said tersely.
I could feel the shift in his demeanor. He wasn't letting me know he could handle the situation, like when he told me he was a paramedic, he was handling it. I got on the radio and made the call.
The ambulance got there pretty fast despite the traffic. I stood back out of the way and let them work on her, raising my eyes to the backed up traffic on occasion. The paramedic had torn open her shirt. Her nudity seemed so out of place on the city sidewalk. Watching the traffic took the unreal quality of it away from me. I watched the ambulance pull away, eased my car down off the curb and back into the sluggish traffic and went back to work.
I got the story on her about midnight once things slowed down and I stopped into the cab stand to talk to the dispatcher for a short while. His daughter knew someone, who knew someone, who knew someone at the hospital. The woman had taken an overdose. Some kind of pills. It was going to be touch and go. He also had a friend in the police department too. She did it because of a boyfriend who had cheated on her. It seemed so out of proportion to me. I went back to work, but I asked him to let me know when he heard more.
2:30 A.M.
The night had passed me by. The business of the evening hours catching me up for a time and taking me away from the earlier events. I was sitting downtown in my cab watching the traffic roll by me. It was a beautifully warm early morning for Northern New York. I had my window down letting the smell of the city soak into me, when I got the call to pick up my dancer with the club gig.
"And," Smitty told me over the static filled radio, "your lady friend didn't make it."
It was just a few blocks to the club. I left the window down enjoying the feeling of the air flowing past my face. The radio played Steely Dan's Do It Again and I kind of half heard it as I checked out the back seat to see if the ghost from the woman earlier might suddenly pop up there.
The dancer got in and smiled at me. I smiled back, but I was thinking about the other woman, the woman who was now dead, sitting in that same place a few hours before. The dancer began to change clothes as I drove to her hotel.
"You know," she said, catching my eyes in the mirror. "I should charge you a cover. You're seeing more than those GI'S in the club." She shifted slightly, her breasts rising and falling in the rear view mirror. We both laughed. It was a game that was not a game. She said it to me every time. But my laugh was hollow. Despite her beauty I was still hung up on someone who had been alive in my back seat just a few hours before and was now dead. Probably being wheeled down to the morgue were my friend Pete worked. I made myself look away and concentrate on the driving. She finished dressing as I stopped at her hotel's front entrance.
"You could come up… If you wanted to," she said. She said it lightly, but her eyes held serious promise.
"I'd like to… But I better not," I said.
She smiled, but I could tell I had hurt her feelings. It was a real offer, but I couldn't really explain how I felt. Why I couldn't. Not just because I was married, that was already troubled, but because of something that happened earlier.
I drove slowly away after she got out of the cab and wound up back downtown for the next few hours sitting in an abandoned buildings parking lot thinking… "I was only concerned about her cigarette burning the seats."
I smoked while I sat, dropping my own cigarettes out the window and onto the pavement. A short while later Smitty called me with a Conrail trip. I started the cab and drove out to Massey yard to pick up my crew. The dancer never called me again…
…
The dancer is not the complete focus of that story. Two different women take the focus, the one that dies and the dancer. The dancer was where I went for my first look at Beth. For the purposes of the story I did not go into a lot of detail about the dancer, but you could assume that I had been picking her up every night for quite some time and that we probably had conversations and you would be right. What I got was the sense of a woman who did what she had the ability to do. Not because she was a whore, or a slut, or a loose woman, but because she wanted to live. Yes, she offered more than conversation and I turned her down, on another night I would not have turned her down most likely. That fact doesn't make her or me either saints or sinners, just human beings. She seemed honest, unapologetic for the life she lived, I loved that. She was not pretentious, she was simply alive and living. She was great as my initial Base for Beth.
My second mold was my mother who has worked hard all of her life. She has been afraid in situations, I am sure, but she always did what she had to, to get by or survive and take care of myself and my siblings. That is real, not a composite, and I wanted Beth to have strength like that. I have met other women with that strength too. It is something I admire, something I think is sometimes lacking in female characters, so I wanted my Beth character to have it.
My third mold was my first girlfriend. Maybe in my head, we never actually made it official, but she was a funny person. Bold. Unafraid of life. She went for the things she saw that she wanted in life. She kept a positive outlook. She didn't let the fact that she was a woman become ammunition to others to slow her down. I remember falling in love with her about three minutes after I met her. She was just an awesome person and she happened to be a woman too. One of the first women in my life that made me stop looking at women in a stereotypical way. I wanted Beth to have that strength.
My last mold was a buddy's wife. I got to know her a little, and one night when we were drinking she told me a story about her life…
Lyrics Copyright © Wendell Sweet 2011 ♪ ♫ ♪ Date Written; 01-24-2011
Song Title: Vegas Style: Alt
Intro
It's snowing in Watertown… Kat's packing the car with Jo Jo… They're leaving for the promise of a better life… Someplace…
Instrumental ———————————— Small Lead transition into song tempo —————-
Verse 1
They left the small town for Las Vegas… Kat she wants to see new places… Run the bases… And Jo Jo's born to be told, you can tell… He takes her west where the snow never fell
But there ain't no easy life in Vegas, it's just a little brighter than some of the other places… Times are tough… You can see it in the faces… When's enough, enough? And who decides? It's tough…
Instrumental ——————————————Small Transition —————————————
Hook #1
The pretty lights will make you blind… to the things you got to do. So you put them out of mind…
Someday, you know, you got to get wise… Time keeps slippin' by… You fall through the cracks if you don't compromise…
Verse 2
Time goes by and they find themselves sleeping in the car. Kat, she finds a job dancing at a bar, and Jo Jo fills in pouring drinks most nights… But he… Hates the dancing. Hates the men… Hates the life…
And some days Kat's thoughts are so black, all she can think about is going back… Promises… You know they don't amount to jack when life ends up like this… When it… moves past promises…
Instrumental—————————— Long Lead ———————————————————-
Verse 3
Jo Jo ain't got much to say… Feels like he… Pissed his life away… Wakes up to do the Jo Jo show… Believes that's just the way that life goes…
He's just trying to make his way through it all… Waiting for the curtain to fall… But maybe it fell and he's just waitin' on last call… Hard to tell… Maybe it's just as well…
Instrumental —————————————–Small Transition —————————————
Hook #2
The pretty lights don't seem so bright when you're working through the long night to the gray daylight…
And sometimes all you want to do is pack it in… But life here beats you down so hard… Don't know where to start…
Instrumental—————————– Short lead transition ———————————————–
Verse 4
Kat, she sleeps through the day… Gets up for work and dances the night away… Walk this way… Slide down the pole… Some days it's like it's all she knows…
Just smiling her way through it all… Listening… Waiting on the curtain call… Sometimes she wonders is it her last curtain call? It's all numbers… Still, she wonders…
Instrumental —————————————Small Transition —————————————
Hook #1
The pretty lights will make you blind… to the things you got to do. So you put them out of mind…
Someday, you know, you got to get wise… Time keeps slippin' by… You fall through the cracks if you don't compromise…
Instrumental—————–Transition to end –slower —————————————————
Xtro
And it's raining… In Vegas… as they make their way home… Still looking for the promise of a better life…. Someday….
Why I Wrote It:
(Note: Additional work 05-15-11 / 05-16-11 There is music for this written in C)
I knew a girl who lived that life. She left Watertown and ended up working in a bar. One night, over thirty years ago, she told me about it. I remembered that conversation and wrote the song about it.
Jo Jo is modeled after me. The aimless life I used to live. I put the two things together and wrote the song…
That was my last piece for Beth. I made those connections in the blink of an eye. I didn't have to explain them or show you the work that lead me to them, but it will be the same for you when you get there I am sure. The thing is to delve into your life. What was your mother/father/aunt/uncle/ex-wife/husband/minister/boyfriend like? Write it. Remember, characters that are non typical are more realistic in the long run. They are also more interesting to the reader, I think, and as you personalize them you base them on your own history and so they take on the characteristics that women or men you have known possessed, and they also become much easier to write because you know them.
Obviously you can't write about someones life. In this society where everyone seems to have a lawyer in their back pocket, and some layers are willing to file a lawsuit for anyone that has a retainer, you may worry that you are, but I would say to you: Examine that. Are you writing what they know? No. You can't. You are not them, you can not know what they know, so you can not write about them in that manner. You are writing about your memories of that person, your impression, and there is nothing wrong with that. If that ability was taken away from us, we, as writers, could go ahead and throw away our pens. It would all be over.
That is substantially different from taking a true incident and writing your own story around it, exploiting that person. Instead, you are taking several people, blending them together, adding the things you believe about life, people, society and coming up with your own character that is grounded in reality. In fact, the few times I have taken an honest look at my characters and compared them to the people I thought that I had based them on, I have realized that it may have started that way, but they took on a life of their own. And that is the way good characters should be, they same as good writing.
Another problem is we sometimes let a friend or family member read our work and we don't get the response we hoped to get from that friend or family member.
I gave a copy of my first book to every family member that I could find. That means I spent what I considered to be a boatload of money buying copies so I could do that. A month later I wrote and said, "Excuse me, but have you had time to read my book yet? I put a lot into it and I think it is good and I would really, really like to have your opinion." I waited, but not a single person wrote back. Huh, I thought. I must really suck very badly. I reminded them a month or so later "Hey! Me again. Just wondering if you read my book yet. Let me know!" Nothing.
Well, I'll be damned, I thought. I knew I wasn't the greatest of writers, but I have read published stuff far worse than what I write, and besides, I poured my heart and soul into it.
I realized then that you have to find your audience. And your audience is there. They don't know you yet, and you don't know them yet, but they are there. They are there sitting patiently and waiting for you to publish that book so they can fall right into it.
Did you notice that I went to my humor well and injected a little humor into my re-telling of passing books out to my entire family and not one reading it or commenting? As you can imagine I was crushed, but I learned from it. I realized that my family didn't write the book. They had no emotional attachment to it, so I went ahead and published it and not long after I got some real feedback that I needed. I found people that liked it. Still do like it, and identify with the characters. Of course I found people that hate it, hate the style of writing, and that is to be expected as well. My point is I based my faith in my ability on me, no one else. Yes, it was good to get feedback, and I took some of it and rejected other parts of it, but the main thing was to get it into my head that I had to like it first. If I didn't like it, believe in it, have faith in it, then it was dead already. I might as well bury it.
Again, we are not on impossible ground, we just have to know where we are. Nobody gets to go through life without being smacked around a little. Either life does it to you or other people do it to you. Sometimes it can destroy you if you allow it to, other times it hurts, makes you cry, but you pick yourself up and get your ass back in gear and go. You learn from it. That lesson is usually like this:
"Wait a second, goddammit. Did I do anything to deserve to get used like that? No!"
Or…
"Does he/she really hate me? Why? What did I do?"
And that might go on a little, but you will come to the realization that you didn't do anything at all. You were just you and some people like you and some people don't. Before you know it you meet a woman/man that does like you as you are, does accept you. Maybe that takes some time, but as long as you don't stop looking you will find out how to be you and be liked. It is that simple. And you know what? It might not be five thousand people that like you. It might be five million, it might be less. But when you learn that, know you are able to be liked, appreciated, you now have another well to draw from. That is the same well you should go to for the basis of your confidence in yourself as a writer.
The reasoning is clear. You may live, as I do, in a small town/village. Things in a small place are small: Small post office. Smaller roads; smaller school. But in another way that is all dead now. With the advent of the internet that has all opened up. The world, literally, is right there at your fingertips. And how many people, do you suppose, are similar to you in your likes and dislikes? Millions? Thousands? A million? A million people out of the entire world is a small number. I would say it is safe to assume that there are a million people out there that would like your writing if you can get it to them. That is your strength. You have been down that road, all the way down that road, you know there are people who do like you, now apply it worldwide and you can see what you have. Another well of strength to draw from.
Now that doesn't mean all of those people are ever going to know about you. They might not, but if you never publish your work they will never have that opportunity and that would be a loss for you and for them. So go to that well where you have that emotion stored from that time you were rejected, put down, passed over, and then go to that other well of strength you used to get past that. Maybe the Bible, Quran, prayer, friendship, something inside that you can not even explain. Whatever it is, go to it. Tell your self that you personally have that faith in yourself. Believe it.
Last words: Family. Family is what we have to turn to for our strength usually, right? Not at all times. We turn there, but it doesn't always help, in fact sometimes it hurts. They seem to be more hypercritical of us than anyone else, or, they never read that book you sent them. Jesus went back to Nazareth to preach and was rejected there among his own people. They said, paraphrased, "What is this? This guy is a carpenter's son, he's not a prophet or a God or a messiah." They rejected what he had to say. How many writers have you read that said their families encouraged them and read their work? Not many. Not many because it didn't happen. It doesn't mean they hate you, or your work. If it was someone else who published it and they read it they might even like it, but it wasn't someone else it was you. And you are Mary's/Bob's/John's kid. "Yeah, I went to school with you., You aren't a writer, you work down at the Walmart, right?" And there you go.
So don't look for what isn't there. If you get that support great, but it isn't a given and you shouldn't let it impact you negatively if you don't find it. Go to that well of strength and get what you need, and then publish your work.
I hope you got something from this five part series and that it inspires you to write. Peace to all of you, Dell…
---
Check out the Series: Glennville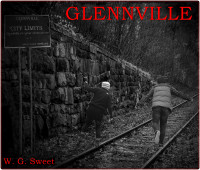 The town of Glennville is like any small town, most of the time. The sun rises and sets like anywhere else. Time moves on. Children play, buildings rise and fall, Kyle Stevens patrols in his police car, and the good folks of the town thrive or fail according to their seasons. But at other times, something else controls the town of Glennville. Something else that dwells beneath the town. Something else that wanders the miles of caves and passages below the city. Something else that does not care about the good folks of Glennville, but has its own agenda. An agenda that moves ever forward according to its own time schedule.
---
---
Total Page Visits: 177 - Today Page Visits: 6